Learning is the answer to all the questions except one, and that one is "What can we do to help?"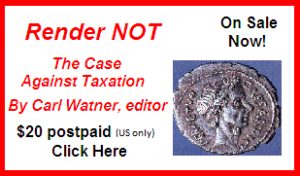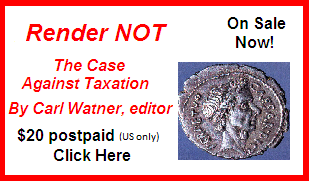 Below is a list of books offered directly by Voluntaryist.com. All postpaid prices are to US addresses only.
You can order a book by clicking the price, which is linked to Paypal for your convenience.
You may also submit a request and payment to the following address:
The Voluntaryist
P.O. Box 275-D
Gramling, South Carolina 29348
Or you can send bitcoins to 1N9chGG4Dpp8Lw1eDye9wjiskAVqaiCi2Y, which you can click to email us your address.
---
New!

A Matter of No Curiosity by Albert Jay Nock (2010)
$19.00 () postpaid.
Evidence of the State is all around us. It is here when we are born; and it is here when we die. To most people its institutional existence is a matter of little or no curiosity, but to Albert Jay Nock, who wrote OUR ENEMY THE STATE, it was a problem of huge magnitude. This small volume of 139 pages contains some of his best essays explaining why we should concern ourselves with its origins, legitimacy, and anti-social nature.

New!

Take Me to Your Government: Four Fables
$13.00 () postpaid.
This highly recommended 160 page anthology comprises the previously published stories of Princess Navina's visits to Malvolia – where the king's one principle is to make everyone as unhappy as possible (1991), Mandaat – where all human actions must be authorized by the government (1994), Nueva Malvolia – where rulers seek the unhappiness of their subjects (1999), and Voluntaria – where there is no coercive government (2002). "Like Jonathan Swift's Gulliver's Travels they raise provocative questions about modern governance by transporting us to imaginary countries," and like Gulliver, Princess Navina is bound to become a classic in which voluntaryism outshines all other modes of human interaction.
Render Not: The Case Against Taxation by Carl Watner, Editor is now available.
$20.00 () postage paid
Click here for more information.
Click here to read the Introduction.
Click here for a PDF version of the book.
Carl Watner's new anthology HOMESCHOOLING A HOPE FOR AMERICA now available.
$20.00 () postage paid
Click here for more information.
Voluntaryist back issues
Original, complete set of back issues Nos 1-130 $260.00 ().
National Identification Systems: Essays in Opposition
Edited by Carl Watner with Wendy McElroy; 308 pages, paperback.
"This is more than a book about national ID. It is about all forms of government enumeration, from the census of antiquity, to government naming practices, fingerprinting, social security numbers, and drivers licenses, to cutting-edge biometric technologies such as DNA, iris scans, or subcutaneous microchips capable of allowing those in charge to know where we are twenty-four hours a day via global positioning satellites. This book looks at the big picture of national ID: what it is, how it has developed, and how it might potentially change our society. It is also about those who have chosen to resist or oppose national ID schemes – from Gandhi's satyagraha campaign in South Africa in 1906 to those Americans who refuse to be counted or carry a government number. These "Essays in Opposition" are intended to honor those whose consciences and principles do not allow them to "roll over" and acquiesce. …
"Never before has there been a book devoted to the idea [of proving] that the logical outcome of government involvement in these areas (from government birth certificates to governmental databases and surveillance) is a 1984-style population control. That is why national ID systems have been called a 'trademark of totalitarianism'."
Table of Contents
$50.00 () postpaid.
I Must Speak Out: The Best of The Voluntaryist 1982 – 1999
An Anthology of 70+ essays from the first 100 issues. Selected and Edited by Carl Watner
Table of Contents
Softcover : $25.00 () postpaid
Hardcover : $33.00 () postpaid
Hardcover Autographed : $50.00 () postpaid
Dissenting Electorate: An Anthology on Non-Voting
Those Who Refuse to Vote and the Legitimacy of Their Opposition
Selected and Edited by Carl Watner with Wendy McElroy
Softcover : $40.00 () postpaid
A Voluntary Political Government–Letters From Charles Lane
Out of Print – Find the complete text in our Classics section.
Compiled with an introduction – Charles Lane : Voluntaryist, by Carl Watner.
A series of seven letters originally published in The Liberator of William Lloyd Garrison during 1843. Henry David Thoreau held Lane in high esteem and Thoreau's ideas on resistance to civil government clearly reflect Lane's influence.
Neither Bullets Nor Ballots
Out of print – find the complete text in our Classics section.
Essays on Voluntaryism – Introduction by Wendy McElroy, Party Dialogue by George H. Smith, Demystifying the State by Wendy McElroy, Voluntaryism in the Libertarian Tradition, A Voluntaryist Bibliography, Annotated and Voluntaryism in the European Anarchist Tradition by Carl Watner.
The Politics of Obedience : $19.00 () postpaid
Contains a lengthy introduction by Murray Rothbard on "The Political Thought of Étienne de la Boétie," and la Boétie's famous "Discourse on Voluntary Servitude," written in the mid-1500's.
Robert LeFevre: "Truth Is Not A Half-Way Place" : $20.00 () postpaid
LeFevre's biography written by Carl Watner, Foreword by Karl Hess.