"If one takes care of the means, the end will take care of itself." -Gandhi

Statement of Purpose: Voluntaryists are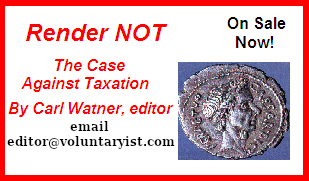 advocates of non-political, non-violent strategies to achieve a free society.
We reject electoral politics, in theory and in practice, as incompatible with libertarian principles. Governments must cloak their actions in an aura of moral legitimacy in order to sustain their power, and political methods invariably strengthen that legitimacy.
Voluntaryists seek instead to delegitimize the State through education, and we advocate withdrawal of the cooperation and tacit consent on which State power ultimately depends.
WE ARE NOT TAX EXEMPT
As you view our website, please remember that it is a labor of love and search for the truth. If you find anything of value here, please let us know by clicking on the Support Us button below. Your gifts to our work are not tax-deductible. Our efforts are bound by conscience and goodwill, not government regulation or political privilege. We refuse to be numbered or supervised by any government agency.
Support Us
Join our Email Group
Request Notification of when Newsletters Are Posted
The voluntaryist email group is an occasional forum for announcements, short articles, and other items of interest to voluntaryists. If you would like to join our email group and receive notification when a new issue of our newsletter is posted, click the button below. All back issues of our newsletter are archived digitally with free access. Download the most recent issue,
Issue 195
.

THE VOLUNTARYIST NEWSLETTER
The Voluntaryist
has been published continuously since October 1982. Each issue has been archived and can be found by accessing our Table of Contents.
I MUST SPEAK OUT
, a book-length anthology of articles from the first one hundred issues is available here or may be ordered via
our BOOKS page
. In addition. flash drives of Issues 1-190 may be ordered for $150 each postpaid, and complete hard copy sets of Issues 1 – 190 are for sale for $ 200 + postage. Plans are underway for Volume II of I MUST SPEAK OUT, which will collect the best articles from Issue 101 forward. Please email editor at voluntaryist.com if you are interested in assisting with this project.
Click here for Subscription and Back Issue information.
THE VOLUNTARYIST BOOK COLLECTION
Carl Watner has donated approximately 175 books from his personal library to the Ward and Massey Library of the Mises Institute, Auburn, AL. They will be cataloged and housed separately from the main collection and will be designated as "The Voluntaryist Collection." If you would like to contribute to the care and promotion of this mini-collection, then please send your contribution
via paypal
. We will send you an acknowledgement along with a list of books that were donated. If you want to add to the collection, please email editor at voluntaryist.com to see what has already been included.
Quote of the Day
Stoicism "is not a philosophy for the weak or cowardly. Stoicism is about facing the truth, and thinking about" worst case scenarios.
- DAILY STOIC, June 19, 2019.
Image of the Week